Spirit of Hope Farm is proud to announce that we will be growing into our own farrow-to-finish hog production this year! In past years, we purchased piglets to finish but have decided that demand for excellent quality, humanely raised pork is high enough for us to take the next step in hog production.
The Boar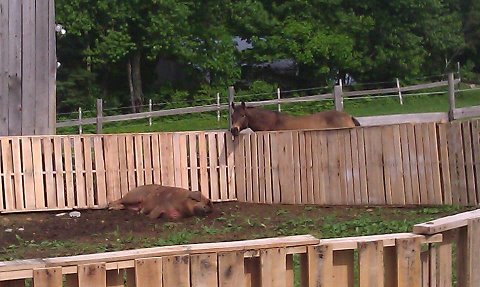 (yep, that's Boofus in his pen with his pony-friend Sarah hanging out, enjoying a beautiful day.

He's got it rough, huh?)

Boofus is a Duroc boar, weighing approximately 700lbs. He is an excellent example of his breed with fantastic depth of ham and shoulder, and a nice, long body that is highly desirable for bacon production. As a breed, Durocs are well-known for their rapid growth to market weight, which means greater feed efficiency. When cross-bred with other hog breeds, the producer gains hybrid vigor that results in lower piglet mortality and greater carcass yield, which increases profit potential on a higher quality product. Boofus is a prepotent sire whose numerous offspring have embodied these traits even when crossed with lesser-quality sows. We will be using him as our herd foundation sire. His first litter with Buella sold out before they were even born! is now available to breed to outside sows. Book your fall/winter 2012 breeding dates now for spring piglets! To book Boofus for your upcoming breeding season, contact Jen at (207) 441-3974 or at spiritofhopefarm@hotmail.com Sows/gilts can be brought here for $100 stud fee each sow plus $5.00 per day sow care. We can accommodate up to 6 sows from the same farm as long as the sows can be housed together (3 sows per 10x7 stall and outdoor paddocks). $50.00 non-refundable booking fee required at the time of booking (applied toward stud fee). Bookings are accepted on a first-come first-booked basis. Outside sows will be kept separate from the farm's sows.
The Sows
Buella was born in February 2011. We purchased her in April 2011 along with 4 of her littermates. The boys raised up to about 250lbs market weight at 6 months old. Buella, a Yorkshire cross, has a nice build and a sweet temperment so she was kept for our breeding herd and has turned out to be an awesome mother. Her first litter, born in February, was 13 live-born pigs. One was crushed early on but 12 survived (a fantastic survival rate for a first littler!) and were phenomenally structured, well muscled, and quite cute! Buella has been bred back to Boofus for a fall litter.
Buella close to farrowing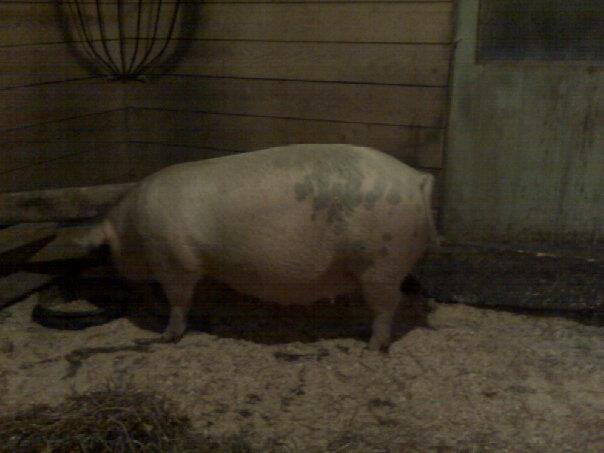 April came to us in January of 2012. We were looking for a Duroc or Duroc cross sow that we could add to our breeding herd and found April advertised. She was initially quite skittish and nippy having not been handled a whole lot but has settled down nicely and really enjoys a scratch on the back or behind her ears! She has been bred to Boofus for a summer litter.

April loves her new "pig digs!"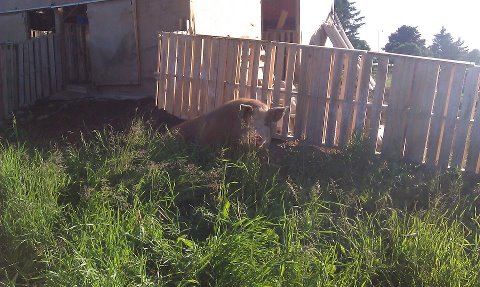 We are currently adding names to our waiting list for summer and fall piglets. To get your name on the list, contact Jen with your name, address, and phone number as well as how many piglets you'd like to order. Orders are limited to the number of piglets we get to weaning so we'll be contacting those on the wait list in mid-to-late April to confirm your order. Piglets are $100 each. All piglets will receive an iron shot and males will be castrated unless the purchaser indicates otherwise.